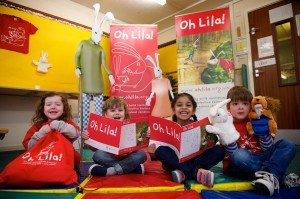 Oh Lila is a flexible and child friendly resource which helps pre-school age children develop valuable life skills.
The resource pack is based on the Oh Lila storybook which tells the story of a young adventurous hare who takes a risk and hurts herself. Lila experiences a range of emotions before confiding in her friend Eric the squirrel, who encourages her to seek help from the wise old hare.
The Oh Lila resource pack does not talk about alcohol or any other substance.
The aim of the pack is to help build resilience and protective factors in young children.
The resource can be used to help children to explore their emotions, develop social skills and identify trusted adults. It also encourages children to ask for help when they are scared or worried.
Following a pilot and evaluation of Oh Lila, the resource is now widely used across Scotland and the UK. Click here to view OH LILA FINAL EVALUATION REPORT.
Our Oh Lila programme is delivered to children in nurseries by trained nursery practitioners. Over 400 nurseries across Scotland are now using the Oh Lila resource and over 600 nursery staff have completed Oh Lila training.
"This resource can be used in an infant classroom setting to discuss many aspects of the CFE health and wellbeing outcomes and to develop social and emotional skills. Excellent resource".
(Nursery Teacher, Inverclyde)